Banker Keith Owen Sidmouth legacy 'blooming' marvellous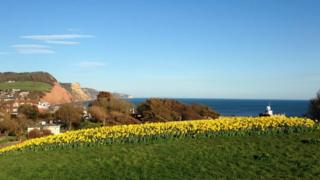 Thousands of flowers have bloomed in a Devon town, thanks to the dying wish of a Canadian investment banker.
Keith Owen planned to retire to Sidmouth where his mother lived, but he died in 2007 after being diagnosed with terminal cancer.
He left his entire savings - £2.3m - to the town's Sid Vale Association. His dying wish was for a million flowers to be planted.
So far, nearly 200,000 bulbs have been planted by volunteers.
The daffodils, snowdrops, bluebells and crocuses were planted at more than 50 sites in the town.
Before his death, Mr Owen told the association he wanted his money to be used to "support local projects, which made use of voluntary labour, and in particular to sustain the ambience and way of life".
In particular, one of his wishes was to have a million flowers planted in the town.
The association said although it would take a few years, it would honour his dying wish.
Mr Owen was born in 1938 in nearby Totnes and educated at Montpelier Preparatory School, Paignton.
He moved to Ottawa in Canada when he retired from the RAF in 1967, but his intention was always to return to Sidmouth, describing the seaside town as "the way England used to be".
He died on 3 December 2007 in the Victoria Hospital, Sidmouth.