Hungarian Vizsla foster dog adopts orphaned puppies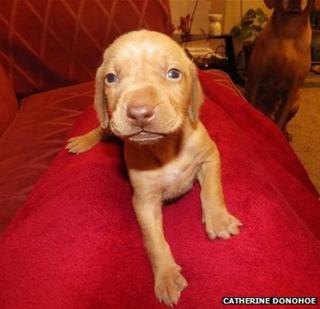 A dog which had a stillborn puppy has adopted another bitch's four offspring.
Clara, the Hungarian Vizsla, who is the canine foster mother, has been feeding and cleaning the puppies after their mother died during labour.
Clara's owner, Catherine Donohoe, from Newton Abbot, Devon, was contacted by the owner of the Hungarian Vizsla puppies, which were born a week after Clara lost her single pup.
She added they were acting "just like a normal family".
Spice Girls
The mother of the four puppies was called Spice and the puppies have been named after members of the Spice Girls.
"Originally five puppies arrived, but sadly one had to be put to sleep because it had a cleft palate," she said.
Ms Donohoe added: "They're just like a normal family... [and] I think it's almost unheard of in this breed."
She said a mutual friend had put the owner of the puppies in contact with her after a stillborn puppy was removed from Clara during a caesarean section.
Betty Smith, chair of the Hungarian Vizsla Club, said: "The Hungarian Vizsla used to be quite unusual in the UK but the number of people owning the breed has seen a steady increase.
"It's a very good looking breed and may be popular because it is not too big and has an affectionate nature."
Mrs Smith added the owner of the puppies was "very lucky" to find Clara.