Pothole repair times claim dismissed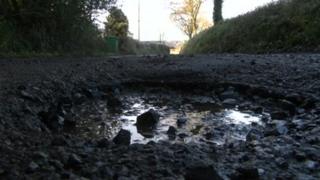 Claims that Devon County Council is scrapping target times for pothole repairs have been rejected.
The claim was made by opposition Liberal Democrat councillors who said scrapping the target would lead to a "slackness in repairs".
David Whitton, of the highways department, said it was seeking only "temporary relaxation" on target times.
The council said more than 15,000 potholes were reported in January and February after weeks of storms.
'Unsafe situation'
Councillor Gordon Hook, the Lib Dems' highways spokesman, said: "We have a veritable epidemic of potholes and it's getting worse.
"I am aware of many schemes which have been temporary delayed. I don't want to see any slackness in repairs. We have a very unsafe road situation."
The council admitted a large numbers of potholes had appeared again, with 7,500 reported in January, and a further 7,900 in February, compared with 2,000 in December.
On its website the council said it aimed to repair large potholes on major roads, well-used pavements and cycle ways within one working day.
Potholes on minor routes are currently targeted for repair within seven working days.
Mr Whitton said: "We're not removing the target times. We're seeking a temporary relaxation on the target times to enable us to get on top of the problem to carry out sensible lasting repairs to the highways.
"In the current conditions it's really difficult to carry out lasting repairs at the sort of level we want."
The number of potholes repaired in Devon before the latest winter storms had halved in the last three years, down from 180,000 in 2010 to 90,000 in 2013, the council said.