Exeter University St Luke's upgrade plans approved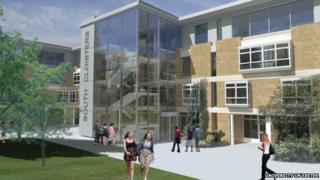 A 150-year-old university campus in Devon is to be given a £10m facelift.
The upgrade of the South Cloisters of St Luke's Campus at the University of Exeter will begin later this month after funding was approved and planning permission granted.
A new storey will be added to the existing building and a four-storey extension constructed.
The campus is home to the medical school, graduate school of education and sport and health sciences.
Employment boost
The university said while the project had been driven by the projected growth of the medical school, all faculties would benefit from the refurbishment.
Prof Steve Thornton, Dean of the University of Exeter Medical School, said: "I'm absolutely delighted that this refurbishment will soon be under way.
"It will help to accommodate our plans for growth and will provide a modern facility for medical research, and for teaching and learning across all colleges."
The refurbishment contract was awarded to the Exeter-based Midas Group, which said it was good news for local employment and sub-contractors in the area.
A student study area should be ready by the autumn, with research areas expected to open in February 2015 and the new teaching facility is scheduled to open in September 2015.