Derriford Hospital staff face doubling of parking fees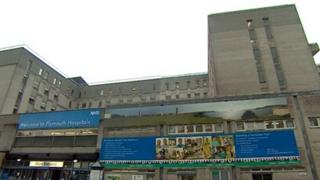 Staff at Derriford Hospital in Plymouth are fighting plans to more than double their parking charges.
Unions say it is unreasonable to put charges up from £1.20 to £2.50 a day and have launched an online petition, signed by 800 people on its first day.
A time limit of four hours could also be introduced on free parking for disabled drivers.
Plymouth Hospitals NHS Trust said prices had been frozen for five years and it needed to cover costs.
'Appalling increase'
Suzy Franklin of the union Unison, said alternatives to parking, like using a bus, were "impossible" because many staff worked night shifts and services were being cut.
One petition signatory wrote: "This is an appalling increase and cannot be justified.
"We the workers are again the ones that are punished for our hard work and commitment as we work long hours, many hours unpaid out of goodwill, and this is how we are treated."
The trust said it was considering not charging the lowest paid workers.
The charges could come into force on 1 April if the trust gives the go-ahead on 28 March.