Housing benefit 'spare room' rebates for hundreds in Devon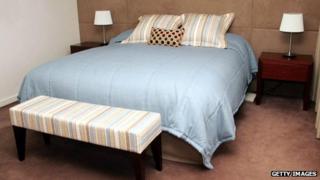 Hundreds of social housing tenants in Devon are to get a rebate after having benefits cut because they have extra bedrooms.
Figures from local councils show tenants were wrongly charged the under-occupancy penalty - dubbed the "bedroom tax" by critics - since last April.
Across Devon it is estimated about 600 households - including 400 in Plymouth alone - are affected.
They are expected to receive rebates of at least £500 each.
'Major drafting error'
Since April last year tenants with one spare bedroom faced a benefit cut of 14%, while those with two or more spare rooms could expect a 25% reduction.
However, a loophole in the legislation meant the penalty should not have been applied to tenants who had been continuously claiming housing benefit from before 1996 and had lived at the same address.
The loophole was recently closed by the government.
Plymouth city councillor Chris Penberthy said it had been a "major drafting error" on the government's part.
He said: "It's ridiculous, there are a lot of people [in the council] spending a lot of time sorting this out, who could be working helping people out instead."
The Department for Work and Pensions said it expected comparatively "very few" households to be affected by the rebates and it was working with local councils to ensure claimants were kept informed.
Similar rebates have been handed back by other councils in England, including Merseyside and the West Midlands.