Eroding cliff in Devon set for council defence scheme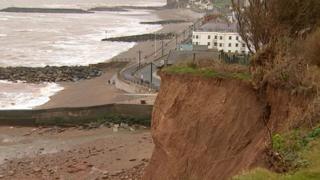 Residents living on rapidly eroding cliffs in Devon are hoping for an improved coastal defence scheme from East Devon District Council.
In 2011, residents of Cliff Road in Sidmouth said they were losing 4m (13ft) a year because of erosion.
Concerns have also been raised about flooding risks if erosion continues.
The council said it was working on a defence scheme and wanted residents to share their knowledge of what was causing the erosion.
One resident, John Radford, said: "It's depressing over a period of time. You always wake up in the morning concerned about it."
Another resident, Tony Miller, added: "This is not about just the cliffs, it's about the protection of the town of Sidmouth."
The aim of the council scheme is to ensure sea defences are working and to consider what needs to be done to reduce the rate of erosion at East Beach.