Teresa Rylands' Liverpool accent led to wrongful murder charge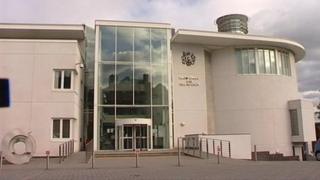 A woman was wrongly accused of killing her best friend - because police could not understand her Liverpool accent.
Teresa Rylands was cleared of murdering Neil Mitchell in Newton Abbot, Devon, when the prosecution withdrew its case.
It emerged her alleged confession during a 999 call was mis-transcribed because of her accent.
Ms Rylands, who spent two months in prison, said although she was glad to be free, she regretted having been unable to attend Mr Mitchell's funeral.
Mr Mitchell died in hospital after falling down the stairs at his home while more than four times over the legal alcohol limit for driving.
Exeter Crown Court was told the 48-year-old had suffered brain and leg injuries in a motorcycle accident in 1983 which, when combined with heavy drinking, left him unsteady on his feet.
After the accident, a "hysterical" Ms Rylands called 999 for an ambulance, during which she was thought to have admitted pushing Mr Mitchell.
However, acoustic tests showed she said: "I don't care if you say I pushed him down the stairs, just get someone in here."
The prosecution said the mistake occurred because Devon and Cornwall Police staff were confused by her strong accent.
Anne Bellchambers, Ms Rylands' solicitor, said her client had always denied injuring Mr Mitchell.
"These were two people, both with epilepsy, both who liked a drink and both with troubled backgrounds who formed a friendship," she told BBC News.
"You could say they were lost souls who gravitated towards each other and although Teresa's delighted that she's been cleared, she's sad she couldn't say goodbye to Neil."
Hug 'threat'
Ms Bellchambers said her client had spent two of the past seven months in jail and for the remainder, was under curfew and electronically tagged.
"Now she plans to come back to Devon and get on with her life - she's even threatened to come and give me a hug."
Devon and Cornwall Police said: "The content of the tape did not indicate that Teresa Rylands had committed any offence and there was insufficient evidence to support a realistic prospect of conviction."
However, the Crown Prosecution Service (CPS) said it went forward with the case because initially there "was a reasonable suspicion that Ms Rylands had committed the offence and that the continuing investigation would provide further evidence".
It added: "Having reviewed the evidence... we no longer felt it was sufficient to support a realistic prospect of conviction and we therefore discontinued the case."
An inquest is due to be held into Mr Mitchell's death.