World War One: Soldier's diaries discovered in Devon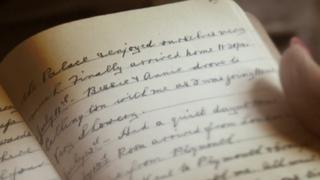 Two diaries by a soldier which describe life on the front line during World War One have been discovered in Devon.
They were found by Valerie Harper in a chest in her attic when she was moving house in Plymouth.
Ms Harper said she was keen to return them to the family of the man who wrote them, Herbert Cecil Algar.
Mr Algar's memories were written when he was serving in the 1st Royal Devon Yeomanry and cover a period from September 1915 to July 1918.
The diaries were found in a packing chest in Ms Harper's home, but it was two years before she realised what they were.
"I thought they were just old books and I didn't know where they came from, so I put them to one side," she told BBC News.
Ms Harper has tried, but so far failed, to find the previous owners of the house to see if she can trace Mr Algar's family and return his "amazing" diaries.
In the diaries, Mr Algar describes setting off from Liverpool in 1915, bound for Gallipoli.
Fallen comrades
On 25 September, he wrote: "All aboard were in high spirits and we were escorted by three destroyers - soon saw the last of dear old England."
By November 1915, he and his comrades were under heavy shelling from the Turks.
On 9 November, he wrote: "My birthday - reached my coming of age [21]."
Two days later, after shelling had intensified, he wrote about the death of the "best officer" Cpt Teddy Hain, from St Ives in Cornwall, which had "cast a gloom over the whole regiment".
He went on to see action in Palestine in 1917 as the death toll continued to rise.
On 21 April he wrote: "Mitchell died of wounds. Very sorry. He came from Bodmin [in Cornwall]."
By 1918 he was back in France and in the middle of the year received some good news.
The entry for 30 June recorded: "Going on leave today, bit excited."
Diaries 'well written'
His last entry on 14 July 1918 said: "Packing to go back to France".
Ms Harper said she was keen to trace his relatives to find out if he survived the war.
She said: "The diaries are just so incredibly well written.
"The hardships he went through were just awful, and I kind of fell in love with him because, with all this awful stuff happening, he managed to find interest in other things."
The British Army said the Royal Devon Yeomanry was one of Devon's oldest regiments, formed in 1794.
It is now known as D Squadron of the Royal Armoured Corps.