Izzy Dix's mother targeted by internet trolls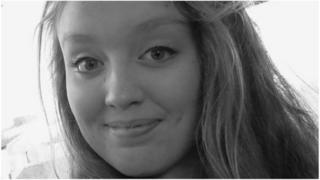 The mother of a schoolgirl who hanged herself amid claims of bullying has been the target of internet abuse.
A Facebook group is being investigated by police over the abuse of Gabbi Dix, whose 14-year-old daughter Izzy killed herself in Devon last year.
Ms Dix complained to police about edited images of Izzy, along with abusive comments and encouragement to others to take their own lives.
Facebook has now removed the group from its site.
Izzy's mother called the group's contents "completely vile".
The teenager was found dead after hanging herself at her home in Brixham in September.
Memory 'violated'
Ms Dix said: "I feel that to attack a grieving mother is incomprehensible.
"There were disgusting posts left on Izzy's Facebook page an hour after her death was announced, and that is still continuing.
"There are some vulnerable teenagers out there being targeted. It really worries me that if adults are finding this disturbing, there are hundreds of teenagers reading this violent content."
She added such posts violated her daughter's memory.
She said: "Where is the respect and compassion for my beautiful daughter's life, death, truth and memory."
A police spokesman said: "The Force Internet Crime Investigation Team are investigating allegations of trolling.
"Due to the nature of this type of crime, the inquiry could prove to be a protracted one.
"To date no arrests have been made and the family are being kept up to date regarding any developments by officers from the team."
'Significant turmoil'
An inquest into the death of Izzy heard she killed herself after an argument with her mother.
However, her family and friends blamed cyber-bullying and began a campaign against it.
But the inquest at Torquay Coroner's Office heard there had been "no evidence of cyber bullying" aimed at the teenager.
Coroner Ian Arrow recorded a verdict of suicide and said Izzy had "significant personal and emotional turmoil".
The Facebook group has been removed from the website.
Facebook said it did not comment on individual pages.
However, its terms of use say that people must not "bully, intimidate, or harass any user".