Dawlish storm residents unable to go home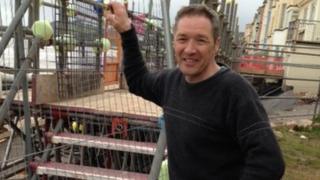 A month after storms forced residents in a Devon town to leave their homes, many have been unable to return to their properties.
Twelve families in Dawlish are still in temporary accommodation until they are allowed back into their homes in Riviera Terrace.
The railway line at Dawlish was wrecked on 4 February when massive waves left the tracks suspended in mid air.
Network Rail announced on Tuesday the line would reopen on 4 April.
Shane Manning, who has been unable to return to his home, said: "Life is surreal.
"You go to work and everything is fine. You go home and you haven't got your everyday life bits you can relax with.
"It is like living in limbo."
Mr Manning's home was one of the worst affected by the storm, with one of the family cars still trapped on site.
Homeowners on the sea front were told to leave immediately when the sea wall and rail line in front of their houses collapsed in the bad weather at the beginning of February.
Residents had to grab their most precious possessions and go as parts of the ground under their houses fell away.
Many were put up initially in the Sea Lawn Lodge in the resort.
Gerry Belcher, the hotel owner, said many people arrived "in just their nightclothes".
Bev Green, another resident in temporary accommodation, said: "It's a bit up in the air, but we're coping."
Peter Large, who has moved back into his home, admits to "checking the tide times everyday".
He said: "Let's hope it was just a one-off experience. We have no intention of moving."