Storm-hit Dawlish evacuation likened to World War Two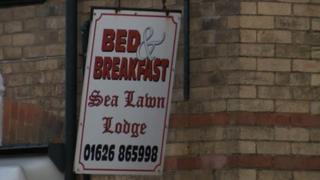 A Dawlish hotel owner who gave refuge to people being evacuated from their homes during storms earlier this month has said it reminded him of wartime.
Gerry Belcher took in more than 40 people as massive waves and storm-force winds destroyed the road, sea wall and rail line below his bed and breakfast.
Sea Lawn Lodge was also used by police and emergency services as a control centre.
"There were people coming in just their nightclothes," he said.
Mr Belcher said many of the residents had so little notice they only had time to "grab their most treasured possessions".
"It was very reminiscent of what happened in London in World War Two," he said
"There were young babies that were really quite upset and crying because they'd been woken and older people who weren't quite sure what was happening.
"It was dark, wet and windy... very trying, but we just got on with it."
Mr Belcher's neighbour, Peter Large, said it was the worst storm he had experienced in more than 30 years.
"We've seen lots of storms, but this was off the scale in terms of the severity," he said.
"The waves were hitting and going over the house - it was pretty scary stuff."
Mr Large said Mr Belcher and his wife Val were unfazed and calm, demonstrating a "real Dunkirk spirit" with their kind actions.
"Val was making tea while Gerry was helping police - it was a vital muster station and they did a fantastic job," Mr Large added.
As the area outside Sea Lawn Lodge remains cordoned off for maintenance vehicles and cement mixers involved in the repair work, Mr and Mrs Belcher's kindness continues - by providing cups of tea for the crews working around the clock.