Dawlish railway reopening could beat target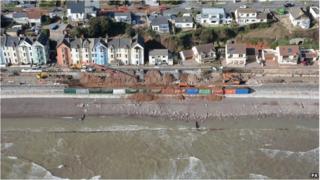 Network Rail has told the government it hopes to reopen the railway line destroyed by storms at Dawlish before its target of mid-April.
Rail minister Steve Hammond said he had been given a "commitment" that "if they can beat that date, they will".
The track connects Cornwall and much of Devon with the rest of the UK.
Transport Secretary Patrick McLoughlin will be questioned by MPs on the Transport Select Committee later over storm damage to places like Dawlish.
'Key priority'
Network Rail has said that it will reopen the track at Dawlish, which runs along the seafront, by mid-April.
Business leaders in the South West have asked Network Rail and the government to consider opening an alternative route for the line that will run inland.
Mr Hammond told BBC Devon that it was a "key priority" to reinstate the railway.
"Network Rail had a good weekend last weekend and they have had some 20-hour days," he said.
"They are also looking at the long-term options for the railway.
"This is a truly exceptional event and we need to invest. Network Rail is investing £35bn over the next three years.