Cigarettes removed from Devon beach container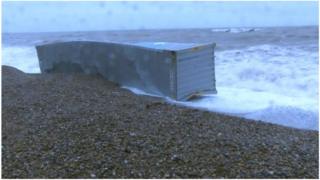 Police and coastguards have removed 11 million cigarettes washed up in a container on a beach.
The container, washed up at Axmouth beach, is one of 500 which fell off a cargo ship in the Bay of Biscay during last week's storms.
Most of the containers are thought to have sunk in French waters, 75 miles south west of Land's End.
Officials earlier warned scavengers away from the container which has been cordoned off.
Cigarettes 'all wet'
Coastguards have spotted three containers from the same ship, one of which has since come ashore. The other two are mid-Channel and are being monitored by coastguards.
Simon Porter, of the Maritime and Coastguard Agency, said: "We are now working closely with Maersk to ensure they recover their containers, which are their property."
All wreck material found in the UK has to be reported to the MCA's Receiver of Wreck.
"Those who don't declare items are breaking the law and could find themselves facing hefty fines and paying the owner twice the value of the item recovered," said Mr Porter.
Gaynor Sedgewick, Mayor of Seaton, said there had been hundreds of people at the beach after the container washed up on Sunday.
"The information was out on the internet and people soon got to hear about it," she said.
"I understand that the cigarettes were all wet so they wouldn't have been smokeable anyway."
Scavengers descended on the wreck of another cargo ship, the MSC Napoli, in January 2007, which ran aground at Branscombe, taking away goods that included BMW motorbikes, wine, face cream and nappies.