Devon County Council leader 'forced' to make £28m cuts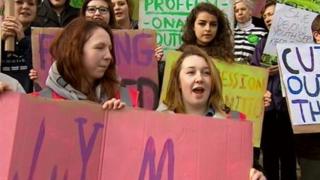 The Tory leader of a council in Devon has told residents he has been forced to make £28m worth of cuts because of a government funding squeeze.
John Hart, leader of Devon County Council, said "we had no choice" and it was "not good news."
Council run care homes, youth clubs and day centres could have their budgets cut in the next financial year.
The Conservative-led authority approved the plan to cut £28m on Thursday. The government is yet to comment.
'Only mandatory services'
Mr Hart said: "We are in a consultation period, we don't know quite what will come forward.
"The big trouble we've got is next year and the year after.
"Quite bluntly we are going to slim down to such an extent, we will not be able to do anything but what is mandatory in the way of services to people."
The authority has also approved a 1.99% increase in council tax.
It means those living in a Band D home will see their bill rise to £1,138.59 a year - an increase of about 42 pence a week.
The increase will bring in £24m over the next four years.
The council has a budget of more than £500m and is aiming to save £110m by 2017.