UK storms: Ancient forest revealed in Mount's Bay sand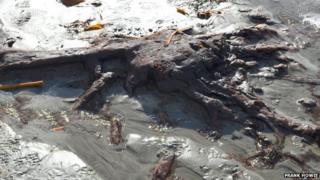 Storms have revealed ancient forests on several beaches in the South West.
Remains in Penzance, Cornwall, can be seen after sand was ripped from beaches by a series of storms which hit the coast in the new year.
Geologists believe extensive forests extended across Mount's Bay in Penzance between 4,000 and 6,000 years ago.
The shifting sands have also revealed wrecks, an iron age settlement in Devon and wartime explosives in Devon, Somerset and Dorset.
Remains of ancient forests have also been seen on Portreath beach, Daymer Bay in Cornwall and Bigbury Bay in Devon.
Frank Howie, Cornwall Wildlife Trustee and chair of the county's Geoconservation Group, said submerged forests were evidence of changes in Mount's Bay as the sea level had risen.
He said: "The storms have revealed trunks of pine and oak as well as the remains of hazel thickets with well-preserved cob nuts and acorns washed out by streams running across the beach.
"At Chyandor to the east of Penzance rooted stumps are exposed in situ in peaty soils and massive trunks have been washed out onto the rocky foreshore.
"These forests were growing four or five thousand years ago when the climate was slightly warmer than today."
St Michaels Mount in the bay is known in Cornish as Karrek Loos yn Koos - which means Grey Rock in the Wood.
Tidal movements are expected to cover the exposed forests with sand over the next few months.
Recent storms have also revealed a number of wartime explosives and the remains of the SS Belem which sank at Northcott Mouth, near Bude in 1917.
The Royal Navy removed an unexploded World War Two device from Crow Point Beach in north Devon.
Wartime explosives were also found on beaches in Braunton, Devon, Minehead in Somerset and in Dorset last weekend.
Remains of an Iron Age settlement have also been revealed in cliffs worn away by the huge waves at Challaborough in south Devon.
A ditch at Challaborough contained Iron Age and Romano-British pottery.