End of tradition as Tavistock pony sales end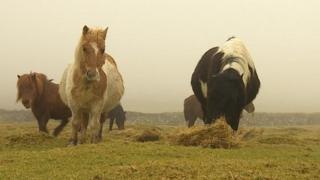 An annual sale of Dartmoor ponies at Tavistock is ending after hundreds of years.
The town's cattle market has taken the decision not to hold the event in October because it is no longer financially viable.
It says demand has dropped for the ponies as pets because of the economic downturn.
Last year the market sold 14 foals out of nearly 100 and these fetched just £12 each.
The ponies were traditionally used for farming, postal deliveries and pulling carts.
But numbers have dropped from about 30,000 some 75 years ago to fewer than 1,000.
'Big decision'
The fall in demand means that about 700 ponies are slaughtered every year for their meat.
Eight years ago foals fetched up to £75 each said David Landick, manager of the market which was held at Princetown before moving to Tavistock about 50 years ago.
"It was a big decision to end the sale, it's a part of history finishing," he said.
Farmer Phil Abel said he was now considering not keeping ponies on the moor.
"There is no money in them at all," he said.
Charlotte Faulkner, of Friends of the Dartmoor Hill Pony, said the landscape of Dartmoor would be detrimentally affected if there were no ponies, which graze on gorse.
"It is absolutely devastating to lose the sale," she said.
"It is part of our heritage that is gone forever."
Chagford is now the only Dartmoor pony sale left and Mrs Faulkner is still waiting to hear confirmation that it will take place this year.