Dawlish rail line may not reopen before 'mid-April'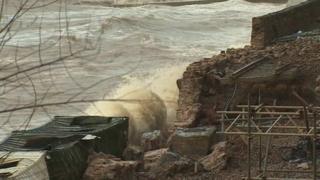 Further damage to the railway line in Dawlish means it will not be repaired until mid-April, Network Rail has said.
It had originally hoped to complete the repairs by the middle of March but the line suffered more damage on Friday.
Exeter Labour MP Ben Bradshaw said the delay was "another serious blow" to the South West economy.
Network Rail said it was "conscious of the importance" of the line which connects Cornwall and most of Devon to the rest of the UK.
The line was wrecked at Dawlish by an earlier storm at the beginning of February.
Makeshift wall
The predicted date for the work to be completed comes just ahead of the Easter Bank Holiday. Good Friday falls on 18 April but the company said it hoped to "beat" its date.
Patrick Hallgate, route managing director for Network Rail Western, said: "We are all conscious of the importance of this railway to the South West, its economy and the people of Dawlish.
"We are confident that we will have the railway back by mid-April and if we can we will beat that date."
Shipping containers used as a makeshift sea wall in front of the damaged track were almost destroyed on Friday.
Tim Jones, chairman of Devon and Cornwall Business Council, has previously said between £2m and £20m a day was being lost from those businesses which relied on the rail network.
Rail 'incredibly important'
MP Mr Bradshaw said: "I am sure Network Rail is doing everything as fast as possible, it is a very difficult job and not helped by further storms.
"But I think every effort must be made to try and get the line reopened in time for the Easter school holidays.
"Most people drive to the South West, but the rail connections are incredibly important and any impediment to travel has to be unhelpful."
Malcolm Bell, head of tourism at Visit Cornwall said: "We have to accept that no-one is to blame, but the message it sends out is that we are cut off.
"People are still asking 'How do we get to Cornwall?'
"The perception is that it is really difficult to get here."
He said 6% of visitors to the county came by train, but that went up at holiday times.
Network Rail said it would work "night and day with dedicated resources".
Until then rail services will stop at Exeter with replacement buses ferrying people to Cornwall.