Cancer fund father Kevin Wright's sentence reduced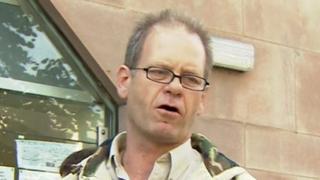 A man who stole from children's cancer charities, including one to help his son, has had his sentence cut as "an act of mercy" after judges heard his son was ill through missing his father.
Kevin Wright, 50, who moved to Staffordshire from Devon, was convicted of 10 counts of theft and two of fraud at Nottingham Crown Court last August.
Appeal Court judges cut his sentence from five to four years on Tuesday.
Lord Justice Treacy said there was "a harmful effect" on his son Bobby, 11.
'Deprived of father'
He said: "It is clear, and we accept, that Bobby has been affected by his father's absence.
"We accept that it has been a stressful experience for the child.
"There is some evidence before us that there has been a positive and harmful effect on that child, as a result of the deprivation for him of his father's company."
Wright set up a number of successful appeals for sick children, raising hundreds of thousands of pounds between 2005 and 2008.
These included the Bobby Wright Cancer Fighting Fund and a company called Bobby's Fund, set up for his son, who, in April 2005, at three years old, was diagnosed with the rare form of cancer, neuroblastoma.
Wright sold raffle tickets through a call centre in his Devon home, had collection boxes and allowed donations through websites, but money went into his personal bank account, the court heard.
The money stolen included donations of £60,000 made by charities Caudwell Children and Janet Nash.
He gave £20,000 to a friend who ran a used-car business and put £60,000 into Premium Bonds. Another £60,000 was used to buy a restaurant in Exeter and invest in a pub in Devon.