Reopening of main Dawlish rail line delayed after storm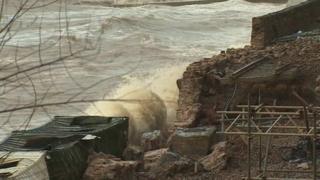 The reopening of the South West's main rail link will be delayed by up to another two weeks after more storm damage at Dawlish in Devon.
A section of the line, which connects Cornwall and most of Devon to the rest of the UK, was destroyed by an earlier storm at the beginning of February.
It had been hoped to complete the repairs by the middle of March.
However, Network Rail said the damage caused by Friday's storm had extended work by up to two weeks.
'Bolstered defences'
Shipping containers used as a makeshift sea wall in front of the damaged track were almost destroyed on Friday.
Julian Burnell, from Network Rail, said: "We've since bolstered the sea defences and we've laid even more ballast and rocks on top for extra support.
"On Sunday afternoon we were able to pour concrete into the breach area for the first time."
After the sea wall was first damaged, Network Rail said it would take a minimum of six weeks to repair. Mr Burnell said Friday's storm damage would add an "extra one to two weeks".
He added "We're obviously still at the mercy of any further storms that come in."
Tim Jones, chairman of Devon and Cornwall Business Council, said between £2m and £20m a day was being lost from those businesses who relied on the rail network.
He said: "It's a huge variation but it reflects how important it is that we can connect to the rest of the UK and particularly London.
"The Easter break is worth something like £150m to the region's economy, if we lose that there's going to be a huge dent in the local economy."
Elsewhere, about 1,000 homes across Devon and Cornwall are without power.
The Met Office has issued a yellow "be aware" warning for rain in south-west England with up to 20mm (0.8in) forecast on Monday.