No sleep for flood-hit Feniton villagers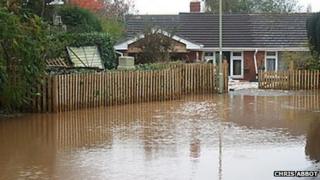 Some people living in a flood-hit east Devon village have not slept for nights, the local vicar has said.
Feniton has flooded numerous times in recent years and a public inquiry has been held over plans to build about 200 new homes, which would increase the size of the community by about 50%.
The Reverend Cate Edmonds said villagers stay up all night when heavy rain is forecast.
"They just live in fear all the time," she told BBC News.
Vehicle 'tidal wave'
"One parishioner told me he just doesn't go to bed when it rains.
"We've had so much rain, that means there are many nights he sits up all night and he's just one of many in the village."
Ms Edmonds, who is also a flood warden, said some "inconsiderate" motorists were making things worse by driving through flood water in the village at speed, causing a "tidal wave".
"People can actually be quite unpleasant and demand they must go through... it's rather sad that they can be so inconsiderate."
The Diocese of Exeter has been tweeting prayers for people who have been suffering in the floods.
Following the torrential rain and storm-force winds that hit the South West on Thursday and Friday, about 300 households remain with power.