Devon tourists jailed for sex assaults on girls, 12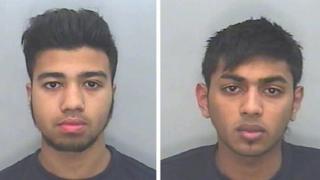 Two tourists have been jailed for sexually assaulting two 12-year-old girls they met on holiday in Devon.
Mohammed Islam and Masudur Rahman, both 19 and from the West Midlands, took part in sex acts with the girls in a Torbay field, Exeter Crown Court heard.
Islam, of Bevan Road, Tipton, admitted two assaults by digital penetration and one sexual assault. Rahman, of Slater Street, Tipton, admitted one assault by penetration and one sexual assault.
Both have been jailed for two years.
The court heard the girls lied about their ages, saying they were 14, and were willing participants in everything that happened on 5 September.
'Sordid sexual encounter'
Judge Francis Gilbert, QC, said: "You were both on a beach in Torbay and started chatting to these two girls who were strangers.
"There was some flirting and you went with them to a rugby field near the railway station where they were both assaulted sexually.
"I accept they told you they were 14, but they were in fact 12, and they were complete strangers.
"Even if they were 14, they were still underage and you were aged 18 or 19 at the time."
He added it was "a sordid sexual encounter".
Miss Emily Pitts, prosecuting, said: "When they went to a field nearby there was consensual sexual activity between them.
"Neither defendant has ever been in trouble before."
Miss Sarah Buckingham, defending Islam, said "He is a young man of positively good character. He poses no risk of reoffending and feels he has brought great shame on himself and his family."
Mr Nicolas Gerasimidis, defending Rahman, said: "He is a young man of good character who at the time was immature and inexperienced and was unable to bridle his affections."
Both men were sentenced to two years in a young offenders institution and ordered to remain on the sex offenders register for 10 years.