Dawlish rail alternative: Brentor home sale fears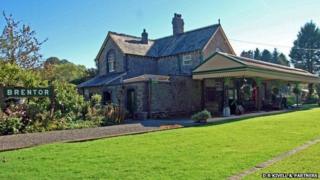 A man who is selling his home - an old station master's house - fears suggestions of a future railway line which could run through his land could hamper the sale.
After the main railway line, connecting Devon and Cornwall to the rest of the UK, was destroyed by storms, Network Rail told BBC News it had a preferred route for a possible future rail line.
Network Rail later said that the process of looking at the options for an alternative route had only just started and no firm decision had been made.
If launched, the route could run through Eric Rhodes' land, who lives in the house at the disused Brentor Railway Station, north of Tavistock, Devon.
He said Network Rail's announcement "certainly doesn't help" with the sale of his property and "until they make a final decision it's all up-in-the-air".
"It's going to take months for them to make-up their mind.
"Having been told over many years they would not use this section again it did come as a little bit of a shock to us.
"We're just going to get on with it and see what happens," he said.
The three bedroom property, near Tavistock, is on the market for £595,000.
He said: "Who knows if i will get the price. Fortunately I don't have to move because of work, we just want to move closer to our grandchildren."
Mr Rhodes, who has lived in the house for 18 years, said Brentor Railway Station opened in 1890, but was closed in 1968 as a result of the Beeching cuts.
"It's a beautiful place to live with the canopy and the waiting room, it's a very nice piece of social history," he added.
The possible rail line would head from Okehampton to Plymouth via Tavistock and go through parts of Dartmoor National Park.
There is no timescale for the plan, which Network Rail concluded in outline proposals last year would cost hundreds of millions of pounds.
On Wednesday, the Transport Secretary Patrick McLoughlin insisted all options remain on the table for building an alternative to the railway line at Dawlish.
The line links Cornwall and much of Devon with the rest of the UK.
Mr McLoughlin said an alternative inland route for the long term would be studied.
But he acknowledged many people were determined the coastal route should never be lost.