Torbay mobile library plans 'ridiculous'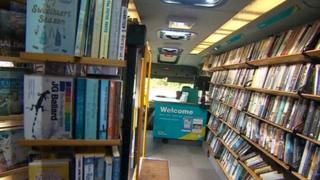 Plans to scrap Torbay's mobile library service have come as a shock, a senior councillor has said.
Conservative Gordon Oliver, the Mayor of Torbay, said the move would protect opening hours at Torquay, Paignton, Churston and Brixham libraries.
But Steve Darling, who leads Torbay Council's opposition Liberal Democrat group, said he was "horrified".
Because of cuts to its government funding, the council said it had to find savings of £22m.
Mr Darling said: "I think it's a shock. I am quite horrified that the mayor has pulled this out of the hat at the 11th hour of the budget. I am very disappointed."
'Regrettable proposal'
Pam Prior, from the Friends of Paignton Library, said: "We know there has to be cuts. The council has an horrific job on their hands.
"But the total focus on finances means the quality of the care in the Bay is being hit. The mobile library has an enormous amount of care as part of its service."
Torbay Council said the library service intended to contact all current mobile library customers to see if an alternative form of provision would be appropriate to "ensure their reading needs could be met".
George Jones, one of the mobile library users described the proposals as "absolutely ridiculous. We rely on the service".
In a statement from the council, it said the proposal was "regrettable" but the decision had to be taken as it affected "the least number of library users in Torbay".
About 700 people use the mobile library service in the area.
The council also said that a new mobile library vehicle would be needed and "this could cost around £115,000".
A final decision will be made at the council's budget meeting on Thursday.