Devon councils row over traffic wardens shake-up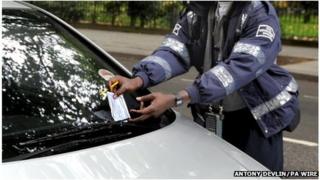 A reorganisation of how parking tickets are issued in parts of Devon could result in duplication of staff on jobs, a councillor has warned.
From April, a team of district council wardens will patrol car parks with a separate team of county council staff monitoring street parking.
Devon County Council said the changes will save almost £420,000 a year.
But North Devon District Council disputes the claim and estimates it will cost an additional £60,000 a year.
Currently, district councils employ the staff and run the services which are overseen by the county council.
The countywide authority said: "The efficiency comes by integrating on-street parking enforcement schemes - currently in eight district council areas with separate back offices - to establish a single on-street parking service."
'Bonkers'
But, councillor Gordon Hook, from Teignbridge District Council, said: "I can't see how this can be a benefit to Devon council taxpayers.
"Two officers will be going to the same community doing a similar job... whereas that job was done by one person."
Brian Greenslade, leader of North Devon District Council, said the idea "seems to be bonkers".
Diana Hill, the council's head of property and technical services, said: "Devon County Council contributed more than £124,000 per annum towards the running of the parking back office, staff, other overheads and licence costs.
"However, taking these changes into account, the cancellation of Devon County Council's contribution and the need to still provide an off-street enforcement team, we will have a shortfall of about £60,000."
Mr Greenslade added: "Given the amount of cut backs we have to make this extra cost is very unwelcome."
Devon County Council said: "After much discussion with all eight district and city councils... it's clear that the new service represents much better value for money for residents.
"The change means that district, city and county council will have enforcement teams carrying out on-street and off-street functions.
"Devon County Council will continue to work with districts through the transition and wherever possible to make parking enforcement more efficient across the county."
The changes do not affect Plymouth and Torbay where services are organised differently.