Devon health boss Dr Paula Vasco-Knight suspended after 'nepotism' tribunal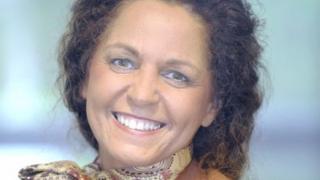 A hospital boss has been suspended from her job after being criticised by a tribunal over whistle-blowers who accused her of nepotism.
South Devon Healthcare NHS Foundation Trust said chief executive Dr Paula Vasco-Knight would be suspended during an investigation into her actions.
Last week, non-executive trust board directors launched a "formal process to investigate concerns" about her.
The board said the suspension would have no bearing on the investigation.
An employment tribunal vindicated two women who had accused Dr Vasco-Knight of nepotism and favouritism by recruiting her daughter's boyfriend to a job at the hospital.
It found Claire Sardari and Penny Gates had been victimised as a result of whistle-blowing about their concerns.
The tribunal chairman Nick Roper said the trust had acted in an "astonishing way" and made "dishonest" attempts to suppress the findings of an investigation into the affair.
Immediately after the judgement, the chairman of South Devon Healthcare, Peter Hildrew, resigned.
'Victimises staff'
On Friday, the local NHS body, the South Devon and Torbay Clinical Commissioning Group, said the chief executive, who became a CBE in the New Year Honours List, should be suspended.
Robert Francis, who wrote the report into the care failings at Stafford Hospital, said the case was an example of "oppressive managerial behaviour... which victimises staff who raise honestly-held concerns".
He added it was "hugely damaging to the confidence of staff contemplating raising concerns".
Chairman Dr Sam Barrell said: "It's fundamental to good patient care that whistle-blowers feel able to raise their concerns without fear of retribution."
David Allen, speaking on behalf of the non-executive directors of the trust, said their decision to suspend Dr Vasco-Knight was a "neutral act" which was "in the best interest of all parties".
He said he wanted to remind patients that "serious as the recent employment tribunal case is, it stems from allegations of favouritism in a recruitment process for a single administrative role. It has absolutely nothing to do with our core business of patient care".