Unseen Robert Lenkiewicz paintings exhibited at Hannahs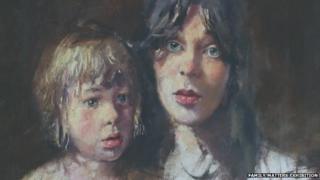 A private collection of paintings by artist Robert Lenkiewicz is to be shown for the first time in public.
The "Family Matters" exhibition will feature paintings owned by the Plymouth artist's family.
The exhibition is being held at Hannahs at Seale-Hayne, an education and arts centre for people with learning disabilities near Newton Abbot, Devon.
Lenkiewicz, whose controversial work included themes such as vagrancy and sexual behaviour, died in 2002 aged 60.
Embalmed tramp
His parents were Jewish refugees from Germany and Poland who fled to London to escape from Nazi persecution during World War II.
Both his Jewish upbringing and the Holocaust are said to have fuelled his interest in obsessive behaviour and his work included projects addressing the complex nature of the theme.
He described these projects as a social enquiry rather than works of art.
Lenkiewicz, who moved to the South West in the 1960s, had three wives, many partners and 11 children.
The exhibition has been collated by his extended family and includes pictures of many of them painted throughout various stages of his private life.
After his death a search of his Plymouth studio revealed the body of Edwin MacKenzie - known as Diogenes the tramp - which he had embalmed as part of his studies.