Devon hospital given £250,000 grant to research protective socks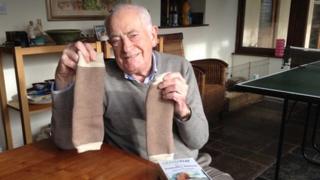 Researchers in Exeter have received a grant for £250,000 to test protective socks which have been invented by a man from Devon.
The socks, called Dermatuff, are being trialled at the Royal Devon and Exeter (RD&E) Hospital to see if they can help with skin tears in older people.
Peter Thornton, from Woodbury, created the socks after suffering from the condition himself.
Clinical trials are taking place at the hospital and GP practices in the Devon.
Mr Thornton, who comes from the chocolate making family of the same name, said he experienced many serious skin tears and leg ulcers before recognising the need for protective socks.
He said: "It starts with the yarn which is blended with nylon in a special way. Then it's made into a sock, but we've had many reports from people that it improves the quality of the skin.
"It has for me. I was suffering quite big skin tears."
The money for the study has come from the National Institute of Health Research.
Dr Roy Powell, who is in charge of trialling the product at RD&E, said: "It doesn't happen very often that people come to us with an idea like this.
"I am ecstatic we managed to get the money for the trial."