Kimberly Barrett 'may have died from natural causes'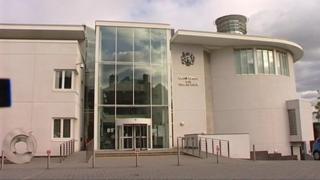 A 10-month baby who died after an alleged Christmas Day attack may have died from natural causes, a jury has been told.
An expert said Kimberly Barrett may have died as a result of a blood clot in an artery in her brain.
James Hunt, 30, is on trial accused of killing the girl while he was left in sole charge of her on Christmas evening 2011.
Mr Hunt, of Pellinore Road, Exeter, denies murdering Kimberly.
The prosecution claim Kimberly died from head injuries caused either by being shaken, slammed against a wall or other hard surface, or thrown on to a cot or mattress so hard that her brain moved inside her skull.
'Never put on blinkers'
They say she suffered two different attacks on 12 December and 25 December.
However defence witness Dr Waney Squier, a consultant histopathologist at the John Radcliffe Hospital in Oxford, said Kimberly may have suffered blood clotting in a vein in her brain which caused it to swell and triggered internal bleeding.
She said: "The first consideration in a child who has bleeding inside the head is that there may have been some trauma if no natural or accidental explanation is forthcoming.
"However, one should never put on blinkers or not look for other causes. A clot in the vein going down the top of the brain might cause the symptoms and signs seen in Kimberly.
"I am not able to satisfy myself of the evidence of trauma at the time of her collapse."
The trial continues.