Colebrook flood victims given barrier protection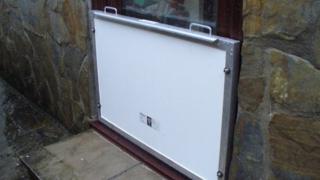 Residents in a flood-hit community say newly fitted barriers should protect them while they wait for a major scheme to improve the village drains.
Colebrook in Plymouth flooded six times in 2012 and some residents were forced from their homes for up to six months.
The barriers were paid for with money from the government's flood resilience community pathfinder scheme.
A flood group set up by villagers has also spent some of the funds on sandbags, river and rain gauges.
A £1.5m scheme by South West Water, the Environment Agency and Plymouth City Council will begin later this month.
It involves refurbishing some sewers and surface water drains and diverting run-off away from the village into the Tory Brook river.
Until then, residents and businesses say the personal protection barriers should keep them dry and give them peace of mind until the six-month programme is finished.
Jenny Kaddem, who runs the village store, said as well as protecting her business, she hopes the work may reduce insurance premiums.
"I hope it will lower my insurance, because if the water comes in here we'd be finished - we'd go bankrupt," she told BBC News.
Muriel Trenneman, who has lived in Colebrook for more than 50 years, said: "Having the barriers is reassuring.
"The flooding has been a dreadful business. It will be a while before the main work is finished, so these barriers should give us peace of mind."
Defra launched its pathfinder scheme in 2012 with the aim of funding "innovative community responses to flood resilience".
Colebrook was awarded £26,000 and the action group, supported by local councillors Patrick Nicholson and David James, the Environment Agency and the city council's highways department, decided how villagers could best protect themselves.
The group has also drawn up a flood plan, with trigger points, emergency contacts and designated flood wardens.
Coordinator Marie Cassidy said one positive effects of the flooding was the community spirit and determination to take action.
"I really believe we as a community have made this happen," she said.
The made-to-measure barriers have been fitted to 13 of the worst-affected properties by a local Devon company.