Plymouth 'ideal' location for new elite nuclear college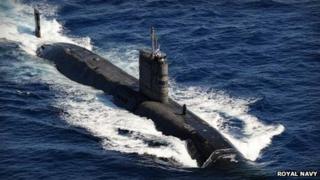 A Devon MP wants Plymouth to bid for a college to train atomic technicians.
Having such a college would remind people of the nuclear capability at Devonport naval base, Plymouth Sutton and Devonport MP Oliver Colvile said.
Plans for an "elite" college to provide high-level technical training for the nuclear industry were set out earlier this week by Skills and Enterprise Minister Matthew Hancock.
Mr Colvile said Plymouth would benefit greatly from having the college.
The base at Devonport is the site for refitting the Royal Navy's nuclear powered submarines.
'Vital opportunities'
"Plymouth has a low-wage, low-skills economy and one of the things I'm trying to make sure happens in the course of my time as the Member of Parliament, is to make sure we do something about that.
"This [college] seems a really good way," he told BBC News.
"If we can campaign to have a nuclear further education college here, that is going to improve our skills base.
"We could actually become the centre for the nuclear industry - and I think that would be a really good thing."
New nuclear power stations are expected to generate thousands of jobs in the future in the UK. However, some employers have already voiced their concerns about skills shortages.
Mr Hancock said a growing nuclear sector offered vital opportunities for highly skilled workers, and the UK had to ensure it was at the forefront of the industry.
The minister also unveiled plans for a software engineering college to respond to the needs of the information technology sector.
Both colleges would be jointly funded by the government and the nuclear industry.