Puppy attack park in Exeter to have CCTV installed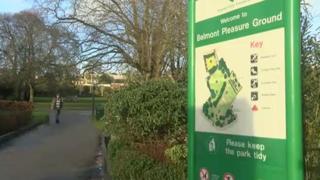 Security cameras are being installed in a park in Exeter following two serious dog attacks.
Helen Dale spent four nights in hospital after she was bitten saving her Jack Russell earlier this month.
Last summer a puppy was mauled to death at the same park in the Belmont area of the city.
Exeter City Council said it was putting the cameras into Belmont Park on a temporary basis to catch irresponsible dog owners.
Mrs Dale had a bone in her hand broken during the attack, while her dog Poppy needed staples in several places.
Keith Owen, lead councillor for the environment, said: "Members need to decide whether to continue with the present regulations, or to introduce a new one requiring all dogs in the park to be on leads.
"In the meantime, we have increased further our regular patrols of the park and we are putting in CCTV."