Devon County Council triples obesity spend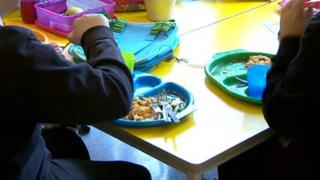 Devon County Council is to triple the amount of money it spends on tackling childhood obesity.
The authority says nearly one in five children in the county aged between four and five are overweight.
That figure rises to one in three among 10 to 11-year-olds.
The council, which took over public health responsibility in April, is increasing its child obesity budget from £100,000 this year to £334,000 for 2014/15.
A health and wellbeing report for Public Health Devon said the "excess weight" percentage for the county's four and five-year-olds was 22% - in line with the rest of England, although West Devon was significantly above the national rate at 28%.
At age 10 and 11, 30% of pupils in Devon were in the excess weight category - well below the England rate of 34%. The South Hams figure of 26% was significantly below both the South West and national rate, the report said.
Devon County Council plans to introduce healthy weight management programmes to provide support and advice to those whose health would "most benefit from increased levels of physical activity and weight reduction".
Steve Brown, assistant director of public health, said families who want to lose weight need to take more exercise and monitor what and how much they eat.
"It's also about behavioural changes, so what we'll be offering will be a variety of different programmes, suited to those families that address all these issues," he said.