Royal Cornwall Hospital's cancelled operations nearly double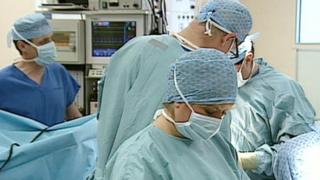 The number of cancelled operations at one South West hospital almost doubled last year, NHS figures show.
The Royal Cornwall Hospital cancelled 604 operations between January and September last year, compared with 379 for the same period the previous year.
However, the Royal Devon and Exeter Hospital's figure fell from 435 to 206.
Derriford Hospital's cancellations fell from 694 to 693 while Torbay Hospital's cancelled procedures rose over the nine-month period from 281 to 344.
North Devon District Hospital's figures climbed by six - from 147 to 153.
Jo Gibbs, Royal Cornwall Hospital Trust chief operating officer, said: "There can be a wide range of reasons why an operation is cancelled but we continue to do all we can to ensure we meet patient need and, when cancellations are unavoidable, that we offer an alternative date as quickly as possible.
"We have seen significant improvement in the past two months and cancellations were 0.6% of all planned operations."
'Hit for six'
A Royal Devon and Exeter Hospital spokesman said: "We understand the distress and anxiety caused when we have to cancel planned operations. However, this is sometimes inevitable if there is insufficient capacity as a result of patients requiring emergency care, and it is our option of last resort."
The spokesman said measures taken included opening two wards in December 2012, seven-day-a-week consultant-led care to help people return home quicker, and an Acute Care for the Elderly system designed to reduce the number of people admitted for a long or unnecessary stay.
Meanwhile, a Paignton man, whose prostate procedure was among those operations cancelled, said he felt "let down" by the NHS.
Derek Tyler, 67, was given his pre-operative procedures at Torbay Hospital and had been waiting on the ward all day, when the operation was cancelled.
"After all those hours, being told I wasn't going to have the operation hit me for six," Mr Tyler said.
South Devon Healthcare NHS Foundation Trust said it could not comment on an individual case, but recognised every operation postponed was "one too many".
"We do our very best to avoid cancelling operations on the day of admission because we recognise the disruption and frustration this causes," a spokesman said.
"Sometimes, though, it is inevitable... for example if another patient comes in as an emergency, if there is no intensive care bed, or if the surgeon is ill."
'Discomfort prolonged'
The trust said patients were always offered an alternative appointment within 28 days.
The Patients Association said the high number of cancelled elective operations was concerning and urgent measures were required to avoid undue delays.
"Equally worrying is the variation in different areas," chief executive Katherine Murphy said.
"Many patients waiting for a surgery such as hip replacement are in pain and have limited mobility.
"By cancelling operations, their discomfort is prolonged unnecessarily."