James Hunt denies hitting or shaking baby Kimberly Barrett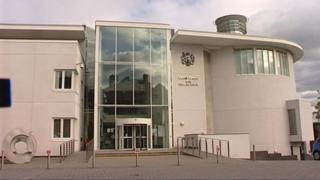 A man accused of killing his partner's baby daughter has told a court he never shook or hit her.
James Hunt, 30, of Pellinor Road, Exeter, is alleged to have inflicted "unsurvivable" head injuries on 10-month-old Kimberly Barrett by shaking her on Christmas Day 2011.
He told Exeter Crown Court he had no idea how the baby died and said he had not lost his temper while he was looking after the baby on his own.
The 30-year-old has denied murder.
The prosecution has claimed Kimberly's injuries were caused by Mr Hunt shaking her or slamming her down violently.
She fell into a coma at home in Spencer Court, Otter St Mary, on Boxing Day and was taken to hospital by her mother, Hayley Bradshaw, where she later died.
Ms Bradshaw told the court Mr Hunt wanted her to come home on Christmas night because Kimberly was "kicking off".
'Whingey noises'
Mr Hunt, who had lived with Ms Bradshaw for four months, told the jury he helped with child care and never lost his temper with Kimberly or her five-year-old brother.
He added that he had never smacked or hit them.
He said Kimberly cried when her mother left, but he gave her a bottle, put her to bed and it was only when he went to check on her that he noticed she was unwell.
"Her eyes were not right, they were open but not focusing," he said.
Mr Hunt said he sat Kimberly up in her cot, but she fell back and hit her head and became "very floppy".
He said she "came round" after 10 to 15 minutes and was making "normal whingey baby noises".
He added that the baby seemed listless the next day and her condition deteriorated in the evening, but he insisted he was not responsible for her death.
"I did not do anything on Christmas Day which would have caused her to go floppy," he told the jury.
"The only bruises I saw on her were the ones the doctor saw on her belly a few days before.
"I never saw any others and I was not responsible for any bruising."
The trial continues.