Dartmoor jail home for Grumpy Gareth the ferret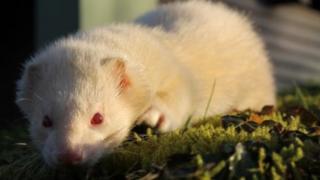 A ferret called Grumpy Gareth because of his unsociable behaviour has been found a new home - in jail.
Dartmoor Prison stepped in after hearing that Woodside Animal Sanctuary in Plymouth was struggling to re-home him.
No owner was willing to take him on because he was nipping other ferrets.
Gareth, who has been given a special coat with arrows, is now residing with other prison ferrets who help keep rat numbers down at the jail.
Gareth was brought to Woodside in May 2013 but ended up a long-term resident because of his personality problems.
Because he was so aggressive towards others, 14 ferrets also needing Woodside's care were unable to be taken in.
'Lucky chap'
Now the feisty ferret has got a new lease of life at Dartmoor Prison.
Sanctuary manager Debbie Haynes said: "Gareth is an extremely lucky chap.
"Although we all grew to love him, we were growing concerned about the rising number of unwanted ferrets he was preventing us from taking in.
"Now he'll be given time, which will hopefully teach him to enjoy the company of others."
Leon Lambert-Gorwyn, from the sanctuary, said prison staff took pity on Gareth after seeing him on the BBC's South West regional news programme, Spotlight.
"I had a tour of the exercise yard," he said.
"They have a huge place to run around in and he is going to be taught to walk on a harness.
"I think Gareth will be happy. You won't get a much better home for him than prison.
"And maybe he'll learn the error of his ways."
Prisoner care
The prison's governor said Gareth would be of double benefit - pest control and helping prisoners.
"We already have some ferrets at the prison which help with rodent control - since their arrival the number of rat sightings has dropped dramatically," Terry Witton said.
"Having ferrets like Gareth is also useful as the prisoners help look after them and that in turn helps give them a sense of responsibility."