East Devon District Council forced to show covenant deal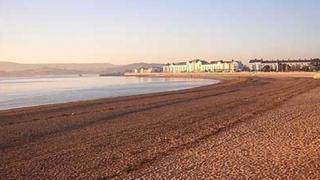 A Devon council spent £50,000 freeing up land so it could improve the seafront in Exmouth it has emerged.
A freedom of information request by the East Devon Alliance, showed East Devon District Council spent money freeing up covenants.
The request was initially refused until the Information Commissioner forced the council to reveal the figure.
The council said it cooperated fully with the commissioner, though it accepted "lessons can be learned".
'Professional integrity'
Niki King, from the campaign group, said: "It's very concerning because if they are not being open and transparent about the covenants, it's a worry about other things they might be doing and not telling the public."
In a statement the council said it had acted with "professional integrity protecting professional legal privilege and has cooperated fully with the information commissioner's requests."
It added: "The release of the covenants at a cost of £50,000 is allowing for the regeneration for the seafront and has already seen huge improvements to Orcombe Point."
The money was paid to lift restrictions on covenants owned by Clinton Devon Estates.
A spokesperson for Clinton said: "In 2008 Clinton Devon Estates was approached by East Devon District Council with a request to lift these historic covenants to enable them to proceed with their regeneration plans for the benefit of the town.
"The view of the estates was that [the council] was the elected body representing the interests of the wider community and it was prepared to discuss the release of all the covenants to assist the local authority to proceed with their plans to regenerate Exmouth."
They added: "Based on charges previously made for the release of individual covenants, a figure of £50,000 was agreed."
The multimillion-pound project to change Exmouth seafront could include a water sports centre, a recreation area and a public square.