Temporary classrooms for leaky Dartington 'eco-school'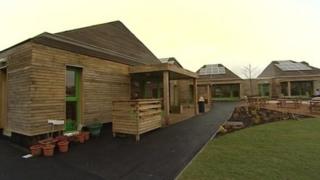 Temporary buildings are being installed at an "eco-school" in Devon which is less than three years old.
The move has been prompted by "considerable problems" with leaks at Dartington Primary School in Devon.
Devon County Council has said it might sue White Design, the architects of the £7m "zero-carbon" school.
The council said no decision had yet been made on whether to rebuild or repair the school, adding that parents and governors would be kept informed.
"It is clear either option will require contractors to have extensive access to the school site," a council statement said.
"We have therefore arranged for a modular building to be installed on the site for use as a hall and kitchen which will allow the marquee to be taken down after half term."
'Design' blamed
Dartington Hall Trust has agreed to allow the council to erect temporary buildings on adjacent land.
White Design said it hoped to help Devon County Council resolve the issues being experienced by the school and the deployment of temporary classrooms would allow the investigations to continue and remedial work to be carried out.
The company said it had been advised by the council that an insurance claim "may be forthcoming", but no liability has been acknowledged by White Design or any other party and there was no legal action as far as it was aware.
The school consists of four separate clusters of buildings, constructed from sustainable timber panels and insulated with natural wood fibre.
According to a report commissioned by the council, the building started letting in water shortly after it was finished.
The report blamed the design and highlighted "complexities within the rainwater harvesting system".