Decline in car drivers using Plymouth's bus lanes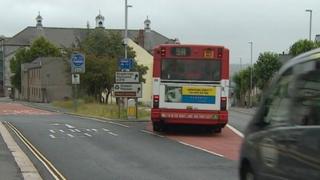 The number of people being fined for using bus lanes in Plymouth has declined, council figures show.
Plymouth City Council has raised more than £1.4m through bus lane fines which were introduced in August 2012.
Since then the council said it had issued more than 66,000 penalty charge notices, although numbers were falling.
In December 2013 just under 1,500 penalties were issued, compared with nearly 8,000 from the previous December.
The council installed six CCTV cameras in August 2012. Drivers who are caught face a £60 fixed penalty charge.
'Reduced accidents'
Between August 2012 and December 2013, £1,417,755 had been raised through the fines.
Councillor Mark Coker, who was responsible for the scheme, said: "The enforcement was about making sure our public services were easier to use. It was supported by the taxi trade, bus companies and cyclists.
"We have seen a huge decrease in the number of cars in bus lanes. It has improved the punctuality of our bus network. It has also reduced accidents."
According to figures from the council, between August 2012 and March 2013, 155 appeals were submitted to the Traffic Penalty Tribunal (TPT) which equates to 0.4% of penalty charge notices (PCN) issued.
Of those 46 appeals were accepted by the TPT (0.01% of PCNs issued).