Devon patients urged to opt out of data scheme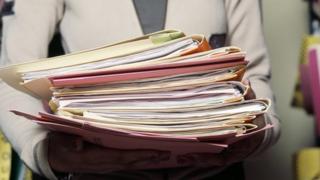 A patients group in Devon is urging people to opt out of a scheme in which GPs hand over medical records for a new national health database.
The Yealmpton Patients Group says the database risks damaging patients' trust in their GPs.
The local GPs committee also fears medics may be accused of compromising medical confidentiality.
The NHS says it will use the information to plan services and may sell it in anonymous form for research.
Leaflets explaining how the NHS uses the patient information, and how people can opt out if they wish, are going to households in England.
'Data sale' fears
Hospital data is already collected, but the NHS says extending the initiative to general practice means it will be possible to get a fuller picture.
Some approved medical researchers may have access, in some circumstances.
Former GP Fleur Fisher, of the Yealmpton Patients Group, said it "would not be acceptable" to enrol patients in a clinical trial without explaining the risks and benefits.
"This is treating patients as data fodder," she said.
"It is not acceptable, not ethical and is against the basic principle of medical ethics."
Dr Bruce Hughes, chair of the Devon Local Medical Committee, said: "Our concern is whether patients in Devon actually know that their information is going to be sold."
Dr Graham Lockerbie, medical director of the local area team for NHS England, said: "If you talk to a nurse or doctor you are giving them medical information so they can provide better care for you.
"We are extending that principle to provide better care for the population by sharing the data."
Anyone who does not want their information used can talk to their GP, and those with questions about how the data will be used can call an information line on 0300 456 3531.