Vigil protests against Torbay Council spending cut plans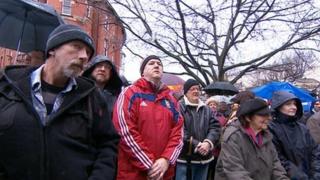 About 100 people have taken part in a vigil in Torbay against proposed spending cuts being considered by the area's unitary council.
Organisers said the gathering, at Torquay Town Hall, aimed to bring churches together to protest against care budgets facing cuts of up to 73%.
Mayor Gordon Oliver previously said tough choices were needed to make £27m of savings over two years.
The council said no decisions had been made yet.
'Hearts and minds'
Elected mayor Mr Oliver initially revealed the authority was planning to make £22m of spending cuts between 2014 and 2016. He then said earlier this month it would have to find another £5m of savings on top of that.
Planned cuts include the Leonard Stock Centre hostel in Torquay having its £300,000 grant reduced by £150,000.
During the vigil, which featured prayers, church groups claimed the plans would hit the area's most vulnerable.
Charities running the hostel said they would not be able to find alternative funding in time before any cuts were put in place.
Organisers said they hoped to "win hearts and minds" in gaining support from councillors against cuts.
Local Liberal Democrat MP Adrian Sanders and former elected mayor Nick Bye also attended the vigil.
Torbay Council said it "was mindful of the sensitivity of these proposals" but there were "no easy answers".
It said: "The important message to emphasise is that these are budget proposals.
"Consultations have taken place with specific stakeholders and services users potentially affected, and robust impact assessments are under way, but no final decisions have been taken."