Paedophile William Goad: 'No compensation' for victims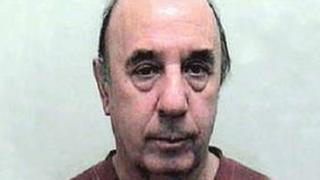 The victims of paedophile William Goad might never get compensation, the solicitor for his family has said.
Goad, who is believed to have abused up to 3,500 boys, was jailed in 2004 at Plymouth Crown Court. He died in prison of natural causes in 2012, aged 68.
He was believed to have been a millionaire, but the Goad family solicitor Charles Knapper said he had found very few assets.
He added he could not see how the victims could recover compensation.
Goad, who lived in Plymouth, abused boys over a 35-year period dating back to the 1960s.
He had owned discount shops and market stalls, but left just £237 and a life insurance policy of £50,000 to his brother.
Mr Knapper said: "I know there have been a number of articles describing him as a millionaire but we found no evidence whatsoever.
"I have to question as to whether the money was ever there."
He said he could not find any evidence which suggested Goad had transferred money to partners or friends.
Mr Knapper said: "I don't act for any of the poor victims, [but] I can't see anything they can possibly do to recover compensation from this dreadful man."
Goad pleaded guilty to 14 specimen counts of serious sexual assault and two counts of indecent assault and was sentenced to life in prison.
During his trial, prosecutor Martin Meeke QC described Goad as a "voracious, calculating, predatory and violent homosexual paedophile".