Farmer Philip Govier who left animals 'in squalor' urged to retire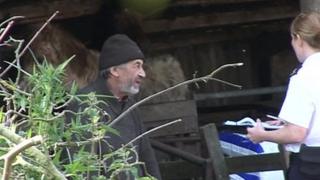 A judge has urged a farmer who kept livestock "in squalor" and left rotting carcasses on his land to retire.
Philip Govier, 68, admitted 14 offences, including neglect, failing to dispose of carcasses, exposing livestock to hazards and inadequate record keeping.
Exeter Crown Court heard Govier, of Willtown Farm, Clayhidon, Devon, ignored warnings to reduce his herds.
Judge Francis Gilbert QC said he wanted Govier to retire "on his own volition".
The court was told welfare officials had found the rotting remains of sheep, cattle and a horse on Govier's land and his live animals exposed to risks including barbed wire and rusting sheet metal.
The officers warned Govier to reduce the size of his herds at his farm, close to the Devon and Somerset border, and stop his animals roaming across main roads in the Blackdown Hills.
'Sodden bedding'
Sean Brunton, prosecuting, said Govier's farm had become "completely unmanageable for him as a result of his poor health and animal husbandry".
He said the property was "now in a terrible state of disrepair and the animals are kept largely in squalor".
"Two separate groups of cattle had no access to any dry lying areas and were stood in sodden bedding."
Defending, David Evans said Govier suffered medical problems which restricted his ability to run the farm.
He added that the farmer wanted to co-operate with the authorities to find a better way of managing his land.
Accepting Govier's guilty pleas, Judge Gilbert said it was "extremely likely this case will result in an order for total deprivation and disqualification from keeping animals".
"I would much rather he comply with my suggestion that he gives up on his own volition rather than me having to impose imprisonment or a hefty fine," he said.
He added that he would adjourn sentencing until May to give Govier a chance to reduce the number of animals on his farm or give up farming altogether.