Barn Owl Trust launches rat poison petition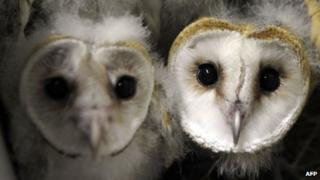 The Barn Owl Trust has called for the government to tighten rules about using rat poison to try to protect the bird.
The Devon-based trust said when barn owls ate poisoned rodents they ingested deadly toxins which "cause internal bleeding and ultimately death".
It said tests found eight out of 10 owls they found had rat poison in their bloodstream and this was contributing to their decline.
The Health and Safety Executive said it wanted rodenticides used responsibly.
Highly toxic rat poisons called second generation anticoagulant rodenticides (SGARs) were first introduced in the 1970s.
A spokesman from the trust said: "Since then the proportion of barn owls found to contain this type of poison has increased from 5% in 1984 to 91% in 2010."
'Numbers incredibly low'
The charity wants poison to be used only as a last resort, along with better labelling to make people aware other animals are at risk and to ban the use of rodenticides where there is no significant rodent problem.
David Ramsden, from the charity, said: "Barn owl numbers are incredibly low. We've got to do something about this.
"We are not prepared to put up with most of our predatory birds being contaminated by these poisons."
The trust estimates there are fewer than 4,000 pairs across the UK.
In 2013, it said monitoring of 73 sites in Devon and Cornwall had revealed owls had nested at just one in eight sites.
The charity has now set up an online petition, which will be sent to Mike Penning MP, the minister responsible for pesticide regulation. He is yet to comment.
The Health and Safety Executive said it was responsible for the regulation of the SGARs and was working with the Campaign for Responsible Rodenticide Use to develop a "stewardship regime".
In a statement it said: "HSE understands the concerns of the Barn Owl Trust and an essential requirement of the stewardship scheme is that it should demonstrate responsible use of rodenticides.
"Once proposals are sufficiently developed, interested parties, including the Barn Owl Trust, will have an opportunity to have their say before proposals are finalised by HSE and the minister."