Amputee Cayle Royce's journey to Atlantic row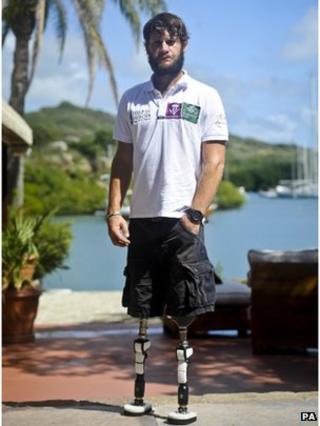 A soldier who lost both legs in Afghanistan has spoken of how he recovered to row the Atlantic.
Trooper Cayle Royce, 27, from Dartmouth in Devon, was struck by an improvised explosive device (IED) on his first tour of duty in 2012.
He was in an induced coma for 48 days while medics battled to save his life.
He was one of four soldiers who completed a 3,000-mile rowing challenge to raise money for injured servicemen and women.
The fitness enthusiast willed himself to recovery, and on Tuesday completed the Talisker Whisky Atlantic Challenge in a little over 48 days.
'Huge confidence boost'
Speaking from Antigua, Trooper Royce said: "I had always been keen on sport but after the blast I thought that side of my life had gone - it was over.
"I was super keen on taking part in the challenge but I didn't think anyone would want me on their team, that I would be too much of a liability.
"So when the team came forward and said they wanted me, that was a huge confidence boost. It felt like I had a purpose."
The Row2Recovery team included fellow amputee Cpl Scott Blaney, as well as able-bodied competitors Capt Mark Jenkins and Trooper Royce's long-term friend and colleague Capt James Kayll.
Both injured Army personnel were forced to leave their prosthetic limbs at home, to prevent them being corroded by salt water.
Trooper Royce has already set his sights on his next challenge - flying a microlight over Kenya, in November.
He said: "I don't regret going to Afghanistan. I regret stepping on the bomb.
"My life has changed now - it's just a case of getting on with things."