Bishop concerned at homeless shelter funding cut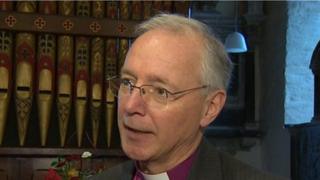 The Bishop of Crediton says he is concerned at a Devon council's savings plans which could affect a shelter for homeless people in Torbay.
The Leonard Stock Centre in Torquay has been earmarked to have its funding by Torbay Council halved.
The Right Reverend Nick McKinnel said a society was judged by how it "treats its vulnerable".
Elected mayor Gordon Oliver said the council was faced some tough choices to make £27m of savings over two years.
'Knock-on effects'
Mr Oliver initially revealed the authority was planning to make £22m of savings between 2014-16. He then said earlier this month that they would have to find another £5m savings on top of that.
Planned savings include the Leonard Stock Centre hostel in Torquay having its £300,000 grant cut by £150,000.
The Rt Rev McKinnel said he accepted that councils across the country were facing difficult choices about savings and "nobody wants to make such cuts".
But he added: "To force the closure of a homeless centre or to hit other welfare projects doesn't just affect those who are homeless and vulnerable.
"It has knock-on effects for all us of and we all need to speak up for those who are most vulnerable.
"A society is judged by the way it treats its vulnerable people. We need to do all that we can to support those that are trying to help."
Mr Oliver said no final decisions have been taken and the ideas are still "out for consultation".