Street chaplaincy service launches in Exeter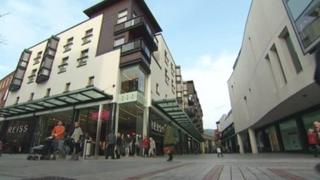 Volunteer chaplains will be taking to the streets of Exeter to provide support to shopkeepers in the current economic climate.
The aim is to provide a listening ear to anyone who needs help, regardless of their faith.
The service has been organised by the Central Churches in Exeter as "a practical Christian presence".
It will be led by a retired Anglican priest and a retired Methodist minister.
Managers said the service would "be on hand to listen and to help in any way we can, either for a short chat or to listen in a crisis".
The 12 volunteer chaplains are drawn from a wide range of the city's churches.
Exeter's Lord Mayor, Rachel Lyons, said: "With the strains and stresses of running smaller shops in competition with the large stores, it is good to know that there will be a listening ear for the shopkeeper, someone with whom to share a trouble."
The chaplaincy service said news of its project had been "well received in the shops and stores we have already visited".