Devon town with royal links bids for title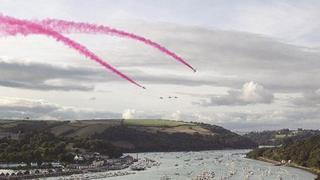 Business leaders in Dartmouth are campaigning for the town to be given the "royal" prefix.
The idea has already received the backing of Totnes MP Sarah Wollaston and town councillors.
Dartmouth's royal connections, with a naval college and a Royal Regatta, could help it become the second town in 100 years to get the honour.
The last town to be named "Royal" was Wootton Bassett in 2011, for its tributes to fallen soldiers.
The idea has come from the Dartmouth Business Improvement District (BID).
Chairman Paul Reach said: "It came out of a discussion we had about what made Dartmouth special.
"We felt it was a good idea to try and get the royal status. The council has taken a vote to support the idea."
The proposal will go before the full council on 3 February for final approval.
Mr Reach said the idea was a "no brainer" and that people who visited the town from all over the world often ask "is this a royal town?"
The Queen first met Prince Philip in Dartmouth when he was a cadet at Britannia Royal Naval College for officer training.
Several members of the Royal Family, including Prince William and Prince Andrew, have passed through Britannia Royal Naval College.
It also holds a regatta, which became Dartmouth Royal Regatta after Queen Victoria accompanied by Prince Albert and The Prince of Wales visited Dartmouth in 1856.
Dartmouth historian Phil Scoble said: "Dartmouth has such a hugely long history going right back to the Black Prince in 1341 who gave Dartmouth the right to elect its own mayors.
"There's been a very strong and heartfelt connection to the Royal Family. The pride Dartmouth already feels to its connection to the royal family is very real. The town has been very protective of the royals."