Cornwall illegal waste family told to pay £450,000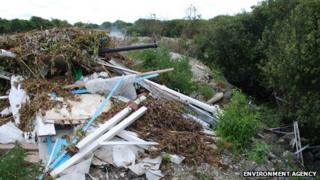 A family being told to pay more than £450,000 in fines and costs for an illegal waste operation shows such offences are taken seriously, environmental health officers say.
Eight members of the Buckland family admitted charges of illegal waste disposal in Cornwall.
Several thousand tonnes of waste were dumped at Rocks Farm, Bugle, from 2003 to 2011, Truro Crown Court heard.
The Environment Agency and police worked together on the case.
The eight defendants had previously pleaded guilty to a series of waste offences, including the storage, disposal and or recycling of waste without a permit.
It was estimated more than 4,500 cubic metres of waste had been illegally land-filled at Rocks Farm, the court heard.
Environment Agency officers also found septic tanks that were not working properly and sewage was being discharged to groundwater.
Of the £457,209 of fines and costs, the family was ordered to repay £365,275 made in profits from the waste operation.
The eight members of the Buckland family were also ordered to pay a total of £91,934 in fines and costs at a sentencing hearing at Truro Crown Court on Monday.
Andy Gardiner, from the Environment Agency, said: "The size of fines and proceeds of crime payment demonstrates how seriously the courts now take environmental offences."