Right Reverend Robert Attwell backs women bishops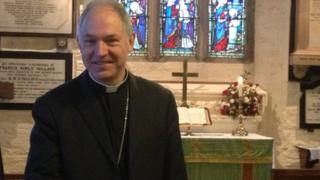 The next bishop of Exeter has said he is "looking forward" to women being ordained Church of England bishops.
The Right Reverend Robert Attwell, 59, currently the Bishop of Stockport, has been named as successor to the Right Reverend Michael Langrish.
The Church could see a final approval of women bishops in July.
Bishop Attwell said: "I am also concerned for those who are unable to welcome that development and I want to be their friend too."
He also said he was in agreement with the Church's stance on gay marriage.
"We understand marriage to be the union of one man and one woman for life, and that is the best and solid way for nurturing of children," he said.
"Good family life makes for a good, strong society. That is what the Church teaches and that is what I believe.
"But there is no place at all for homophobia in the Church.
"As far as I am concerned I want all people, regardless of their gender or their sexuality, to feel at home in our churches and be welcomed."
'Great hardships'
Born in Ilford, London, he studied at Cambridge University and was a Benedictine monk at Burford Priory, Oxfordshire, from 1987 to 1998.
He has been Bishop of Stockport in south Manchester since 2008.
He will become the 71st bishop of the Diocese of Exeter which comprises more than 500 parishes across Devon.
Bishop Attwell said: "I realise that the picture postcard image many have of Devon isn't the whole truth.
"There are communities facing great hardships, through poverty and lack of employment, as well as the recent flooding which has affected many people and caused problems for the farming community.
"I've been moved by the stories I've heard of churches and individuals across the county getting stuck in and helping people."
Bishop Attwell will be installed in Exeter Cathedral in July and will live in Exeter.